Want to learn how to make a silicone mould for resin casting? It's simple. Pick up the Flexi Mould Silicone Compound and use our step by tutorial below. You'll soon be able to make your own resin mould and create resin jewellery pieces that are completely unique to you.
How to make resin moulds at home
Selecting an object for resin mould making
The first thing you'll need to think about before you make your own resin mould is which object to use. In order to create a mould, it's important that you have an object or model that will make the process straightforward. Remember that the more detailed and oddly-shaped the object is, the more difficult it is going to be to create a mould from it.
If you're just starting out and still learning how to make resin moulds at home, then it may be a good idea to start with a simple shape with a flat back. An object that can be turned into a pendant or earring with a flat back is going to be easy to make into a mould for resin casting. This is because you can pour the resin directly into the mould and as it settles it will leave you with a flat backed pendant anyway.
Some resin mould making ideas:
Still not sure which object you would like to use to make resin moulds? Give some of these ideas a try:
Start simple. Think about objects that are lying around the house that could be made into a unique jewellery piece. Do you have any old buttons lying around? Small toy figures? Or perhaps you've collected some shells from the beach? The custom resin moulds you make are only limited by how creative you are when it comes to finding a model!
How are your woodworking skills? If you're creating a simple shape, then this could be the answer. Or if you're looking for something more complex, you could enlist the skills of a local woodworker to help you out.
Have a more complicated object in mind? Find a CAD professional who can produce a model prototype for you. This will make sure that your resin mould is completely unique!
Resin mould making for beginners
Now you've selected or made a model, you're ready to learn how to make a mould for resin casting.
Let's start with some health and safety tips first…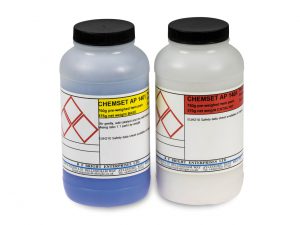 Although the Silicone Moulding Compound is non-hazardous, we'd recommend using protective gloves. This is because the compound itself can become quite slippery and more difficult to work with when it comes into contact with your skin. If the compound does come into contact with your skin, simply wash with soap and water.
Prepping resin mould making supplies
Aside from your silicone compound you may also need:
Mixing cups
Ice lolly sticks (handy for mixing)
Old food container (to fill with your compound)
Electronic scales
Mixing the silicone compound
Flexi Mould Silicone Moulding Compound Technical Details
Mixing Ratio:
1:1 (equal parts)
Working Time:
40-50 minutes
Setting Time:
6-7 hours
The most important thing to remember when mixing together your silicone compound is that it has a simple mixing ratio of 1:1. This makes it easy to measure and manage so that you get the right consistency and the correct result for your resin moulds.
Are you using smaller amounts of the compound to make your own resin mould? Make sure you measure each part of the compound using plastic cups and electronic scales. This will make sure that your mixture is accurate and will set properly.
Once mixed together the compound can be worked for 40-50 minutes. But it's unlikely you'll need to speed through this stage, especially if you already have all your supplies prepared beforehand. Just make sure you leave ample time for your mould to set – this can take up to 7 hours.
How to make a silicone mould for resin casting
Now you have all the technical details to hand, here's how to make a silicone mould for resin casting in 8 simple steps:
Weigh out equal amounts of each part of the silicone compound using your electronic scales and plastic cups.
Pour the white catalyst into the blue base and mix until the compound is a consistent pale blue colour. This usually takes about 1 minute.
Place your chosen object or model into an old, clean food container. Make sure that there is ample room in the container for the model to fit comfortably without it touching the edges of the container. You may also want to glue this down to stop the object from shifting as you pour the compound into the food container.
For the best possible results, pour the mixed compound slowly and steadily until it fills up to the object you're casting. Slow pouring will stop bubbles from forming in the mixture and leave you with a smoother casting.
Not enough compound? No problem. Simply mix some more of the compound in the same way, ensuring that you use equal parts of the base and the catalyst. Once mixed thoroughly you can add this directly to the mould. It will bond to the existing compound easily.
Leave to set for at least 7 hours or longer if you have the time to spare.
Once set you can remove the object from the mould and remove the mould itself from its old food container.
Now you're ready to mix and cast resin jewellery pieces!
Learning how to make resin jewellery moulds will give you the flexibility to produce unique jewellery with little cost and effort. Once you perfect resin mould making and resin casting, you'll be able to come up with some imaginative jewellery pieces for your collections. All you'll need to get started is our easy-to-use silicone moulding compound as well as some colourful resins to get you inspired.
The post How to Make a Mould for Resin Casting appeared first on The Bench.