From a sales point of view, wedding ring trends are very clear to see. Across all of the alloys there are styles which consistently sell more than the others.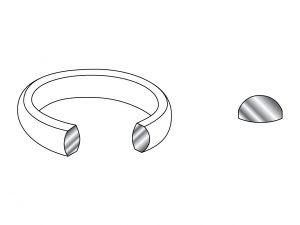 Court Wedding Ring Profile
The classic court profile is without a doubt one of the most popular wedding rings on the market today. The domed exterior wall, coupled with the rounded interior surface, go together to create a ring which is both comfortable to wear and substantial looking. The chunky wall thickness gives this ring a quality which can sometimes be a little lacking in similar looking designs. It is this weight and presence that sets it head and shoulders above the competition. 3mm is our most popular width which can easily stand alone or sit comfortably alongside another ring making it ideal for both ladies and gents.
Another star within the range is our Halo design which features a completely round profile which has been a big hit with customers for some time now.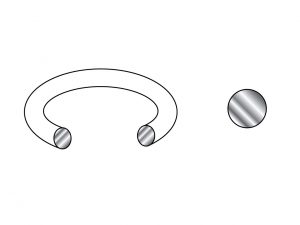 Halo Wedding Ring Profile
Topping the popularity charts in both silver and yellow gold, it is the narrow gauges and small sizes that outsell everything else suggesting that these are the ring of choice for the ladies. They are also perfect for stacking and layering. 2mm and 3mm Halos are ideal for complementing a beautiful engagement ring without detracting from it. Again the weight is a great plus point and the rounded shape gives it a substantial feel which would be lacking in other profiles of that width.
Cost is often a prime consideration when it comes to wedding rings and when an item can look exactly the same in a range of alloys with wildly differing price points, it's no wonder that many people opt for the cheaper option. Who's going to find out when it looks good? Often you will also find that the bride will have a more expensive ring to match an engagement ring in gold or platinum and the groom will then go for a less expensive alternative such as a palladium or silver.
There are no hard and fast rules when it comes to men's wedding rings but they do tend to be a little chunkier than the ladies styles. Our heavy weight 3mm Flat and 6mm Court, represent two more of our most popular styles across the entire range. Both in silver, these are ideal for the men's market and are so reasonably priced it's quite astonishing.  The impressive wall thickness, (2.64mm Court and 1.35mm Flat) gives these rings terrific durability and longevity which is exactly what's required of a wedding ring.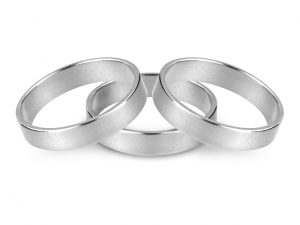 Silver, Flat 3mm Wedding rings
Our silver flat rings dominate the sales in the larger sizes as they also make a great generic choice besides being ideal as a wedding ring. Straight lines and crisp edges traditionally appeal to the male market in many aspects of design, so if you are looking for a gift for the man in your life, a flat ring is a good place to start.
Finally a quick word about our easy fit design. If you are not familiar with it, it is purpose made for those who want the look of a flat ring and the comfort of a court, the best of both worlds. It's a great choice if you have a manual job where a flat ring may dig into your hand when using tools or machinery, as the rounded inner profile will prevent this from occurring.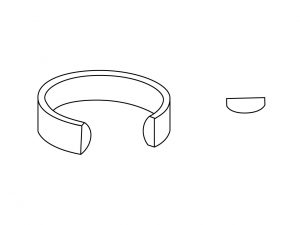 Easy Fit Wedding Ring Profile 
We have mentioned just a handful of our classic bestselling wedding rings; however our full range is extensive, in excess of 4500 products to be precise! For the full experience, head to our Wedding Ring Blank section. At the moment, we are offering 15% off Wedding Rings Sale. This sale is due to end soon, so be sure to take advantage.
The post Wedding Ring Trends appeared first on The Bench.